How to become an Indigenous woman leader: the experience of Lea Nicholas-MacKenzie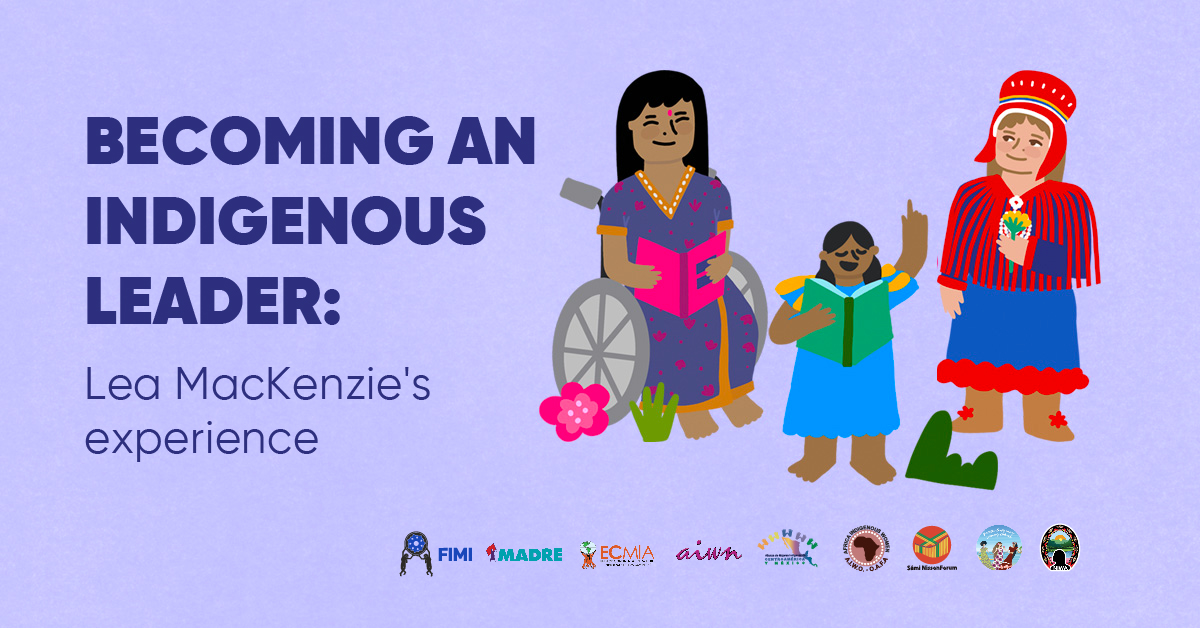 Lea Nicholas-MacKenzie, also known as "Warrior Princess" has fought all her life to defend Indigenous Women's rights at the national and international levels. She considers the CEDAW General Recommendation to be the instrument with the power to put pressure on the States for an actual and effective change.
On July 19, 1979, over a hundred Indigenous Women and children of the Tobique First Nation in Canada started a 160 km march that caught the eye of hundreds of people. Armed with red banners and signs, these relentless women marched through lakes, forests and rivers from the Kanesatake lands to the Canadian Parliament in Ottawa to protest a Canadian law known as the Indian Act, which was discriminatory against Indian Women. The XIX century law set forth that if an Indian Woman married a non-Indian man, she and her children would lose their Indian status.
The participants of this historical march included a young girl, Lea Nicholas, who was accompanying her mother, a political activist of the Indian Rights for Indian Women organization. This was the first time she fought for defending Indigenous Women's rights. "I remember feeling inspired by those courageous women devoted to raising awareness," she explains.
The protesters achieved having the Minister of Indian Affairs of Canada meet with them as political actors, which was unusual at the time. Finally, in 1985, they succeeded in having the government approve a bill to amend the Indian Act. From an early age, Lea learned that if you fight in unity for the individual and collective rights of Indigenous Women, great success may be achieved. Her political advocacy career at a national and international level would lead her to earn the name "Warrior Princess."
The Wəlastəkwey People in Canada
Lea grew up among trees, snow and frozen rivers, surrounded by her cousins, uncles and aunts. She spent the day amid a lush nature, catching rabbits, walking with snowshoes or collecting the famous maple syrup. But underneath this idyllic childhood image, lies a condition of poverty, lack of opportunities and dispossession of the Wəlastəkwey People —also known as Maliseet—, to which Lea belongs.
The Wəlastəkwey People are part of the First Nations in Canada, composed of 635 communities, representing more than 50 distinct nations and linguistic groups. Its name makes reference to the beautiful Wəlastəkw River and emphasizes the relationship between its members and the natural space they inhabit. Before colonization, they were found in the geographical territory between Quebec, New Brunswick and Maine. "This was our land, but colonizers imposed borders. They saw no Wəlastəkwey land or territory," Lea explains. In 1725 and 1779, Great Britain signed the Peace and Friendship Treaties with the Indigenous Peoples of Canada. However, such treaties were hardly ever honored and the British continued using colonial practices to dehumanize Indigenous Peoples. "But they failed to eliminate us entirely," Lea remarks.
The power of education: a horror story for Indigenous Peoples of Canada
Education was a crucial requirement in the Nicholas family. Although grandmother Nicholas could not attend school off-reserve, she fought so that her sons, daughters and grandchildren could have that opportunity. This high level of education among Indigenous families was completely unusual back in those days, as the Indian Act promoted an educational system for Indigenous children, whose purpose was cultural assimilation and genocide.
Between 1894 and 1947, attendance at Indian Residential Schools was mandatory and it is one of the darkest episodes in Canadian history. Numerous physical, psychological and sexual abuses have been documented and it is estimated that between 10,000 and 50,000 Indigenous boys and girls disappeared. Through September 2021, more than 1,300 bodies have been found in unmarked graves across the sites of five such residential schools.
MacKenzie attended an Indian Day School. "There was a lot of abuse that was similar to Residential Schools; for example, we were not allowed to speak in our own language, but at least at night we went back home to our families," she explains. That is the reason why for Lea it is not only important to have access to education, but also to exert control over it.
The experience of the Mi'kmaw People in Nova Scotia depicts how an intercultural education may be key for the development of Indigenous communities. Since 1999, a governing law grants the Mi'kmaw People the decision power over the language, history, identity and contents of the curriculum. This system enables the graduation rate for indigenous young students who conclude their education to be 90%, while, in the rest of the country, such rate is around 40% or 25% in the worst-case scenarios.
From national to international political advocacy
Thanks to her education and to a degree in French Language and Linguistics, Lea could leave her community in search of new opportunities. The price she paid was living far away from her roots. Her first job was with the Canadian government, at the Department of Indian Affairs, focused on Lands and Environment. According to Lea, this was an opportunity to know the system from the inside, although she could not do much to change it. "I was too young and did not know how to fight for Indigenous Peoples' rights in a system that works against them. So, I left."
Her next step was as Chief of Staff at the Assembly of First Nations. "There, I became a true activist," she recognizes. In 1998, she was sent to take part at the annual session of the Commission on the Status of Women in New York. "We did not know how to use the United Nations in order to advance our rights. There were only three Indigenous Women participating and we hardly had the chance to speak. We were discriminated against by many in the feminist movement, and that made us realize the importance of having our own voice," she explains.
After that event, Tarcila Rivera Zea, a Quechua Indigenous woman leader of Peru and current President of the FIMI, invited her to organize the preparatory event for the Beijing +5. Lea and the rest of the team members were able to bring more than 100 Indigenous Women to New York and train them on how to use the United Nations instruments to make their voices heard and promote their rights. FIMI's Global Leadership School, which will be implementing its ninth edition, came to life from that event.
Recommendations to make our voices heard
20 years after this historical event, the global movement of Indigenous Women has managed to initiate a CEDAW General Recommendation on the Rights of Indigenous Women and Girls. Even though there are already some United Nations instruments that recognize the Rights of Indigenous Peoples, the human rights of Indigenous Peoples must be included in all instruments, including Conventions such as CEDAW. "Indigenous Women may use them to defend their rights at a State level. That is why it is so important," she concludes.
However, taking part in these decision-making spheres —where Indigenous Women are not welcome— has not been easy at all. "We must enter the room as our ancestors did, who fought for our rights. Because of them, I feel I can face any challenge that may arise," she explains.
It is also important for Lea to have courage, although this does not mean "not being afraid, but not letting fear stop you." After years of political advocacy work at a local, national and international level, Lea has found the best formula to make the person sitting across the table listen: finding solutions. "You have to be persuasive, not aggressive. Pounding the table will be of no use. When facing a problem, the best thing to do is to propose how to solve it," she concludes.
Share